Many of these tools require the Internet. For teachers without Internet access,
OpenOffice
for docs/presentations,
GIMP
for image editing, and
Audacity
for audio projects are wonderful tools.
What if you don't have your own classroom? One year, I traveled between 3 classrooms, so I put together the following travel cart:
Netbooks
At $300-500, these small laptops are making 1-1 laptop learning settings a real possibility for many schools. In looking for a netbook, I tend to focus on the size of the shift keys (bigger better), size of vents on the bottom of the laptop (smaller better), and the size of the harddrive (while flash HD is more durable, the speed and cost makes me is pick traditional HD). Track pad means less for me since I believe that any school should invest in USB mouses, because the track pad will be the first thing to wear out under student use. I would also stay away from Vista based netbooks. Teachers should get a 6-cell battery model (4+ hours of life) and students can function with 3-cell battery model (2+ hours of life).
Below are some images of their keyboards from top to bottom: Dell Mini 10, Samsung NC10, ASUS Eee PC 1000HE, Acer One, and last the HP Mini. Not yet shown is Dell's new release of their pricier Latitude 2100 netbook, which is more rugged for student use.
Dell Mini 10 (good student choice)
Pros: Good keyboard and low price, existing school relationships.
Cons: Large bottom vents and long term typing can be tiring.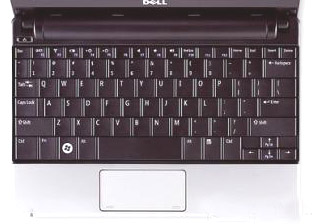 Samsung NC10 (good teacher choice)
Pros: Top performance in all aspects.
Cons: Higher price.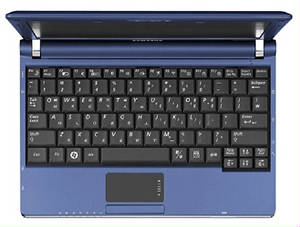 ASUS Eee PC 1000HE (good runner up)
Pros: Great keyboard for extended typing (though noisy), low price, and good webcam.
Cons: Heavier than others, a long established company, but not well known.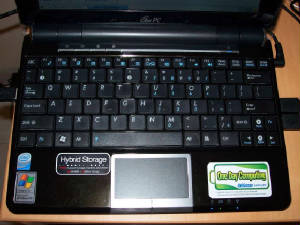 Acer One (too small)
Pros: Small, well built, and cheap.
Cons: Hard to type and large bottom vents.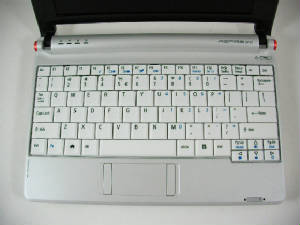 HP Mini (too flawed)
Pro: Few bottom vents and large keyboard (but no keyboard springiness).
Cons: Pricey, more expensive for larger hard drive.