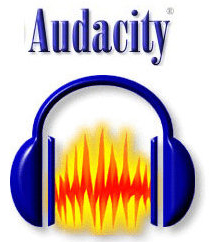 http://www.download.com/Audacity/3000-2170_4-10058117.html?tag=lst-1
AUDACITY-INTRODUCTION
For Use With: Recording and editing audio.

Work WITHOUT Audacity: It would be expensive to edit audio digitally or editing would be done through traditional tape recorders.

What is Audacity?
Audacity is a free digital audio recorder and editor. It is software, so it has to be downloaded and installed. You can record audio through any microphone you plug in to your computer or through loading pre-made audio files like mp3 and wav files. The finished audio can then be podcasted (through Gcast) or burned on CD (through Apple iTunes or Windows Media Player).
Quick Tip (Detailed Instructions and Tutorial Videos Coming Soon):
Audacity is great free software, but it only saves files as wav files. Wav files are larger and can't be podcasted through Gcast, though wav files can be burned to CD. Audacity has a free optional plug-in software called LAME that lets you save in the smaller mp3 format. The instructions adding a plug-in is that the plug-in file must be kept in a single place on your computer. It can be any place. Then when you ask Audacity to save to mp3, it will ask you to tell it where the plug-in file is kept. If you don't move the plug-in file, it won't ask you for it ever again.

Link to the PC version can be found at our site:
http://governmentandlaw.tripod.com/innovationfiles/lame_enc.dll
Link to MAC verions can be downloaded through the Audacity site:
http://audacity.sourceforge.net/help/faq?s=install&i=lame-mp3
Link to more info about the plug-in:
http://audacityteam.org/wiki/index.php?title=Lame_Installation
Video Introduction: not yet posted
Video Tutorial: not yet posted

http://librivox.org/

LibriVox is a free site where volunteers (like your students) can record chapters of books in the public domain and upload them to this site to be shared with anyone who because of disability or preference wishes to hear the book. Students can also be users, and hear books that have been uploaded by other users. This is great for English language learners. Find books in the public domain at: http://books.google.com/