Government Class Network and Blog

http://govchiang.blogspot.com
Blog Instructions:

Entries are awarded discussion points if posted with in that week's postings (by Saturday evening).
Entries must include your first name and last name initial AND period, example: Bill L Period 3.
Note: Same school rules/consequences apply in virtual school environments (Ning) as they do in real environments.
Link to Class PowerPoints:
Past Homework:
Thursday Evening, 1/27
1) Bring empty notebook (8x11 size, 90 pages+)
2) Fill out first day form
3) 3 recent photographs, can be a print/copy. Must be appropriate (won't be getting back).





Government Class Resource Book:
English Chinese Japanese Korean
Workbook Format: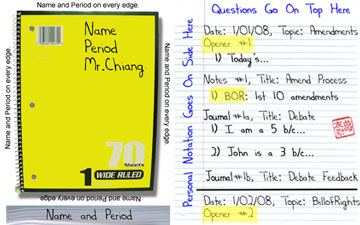 Click below to play news video (these clips can not be used for your homework, they are not from Newshour):